Throughout your stay at the Victor Hugo Clinic you will be cared for by our team of nurses, auxiliary nurses and physicians, who will do everything to make your stay as pleasant as possible.
1/ Consultation with your physician
Your forthcoming operation was recommended and explained by your surgeon.
The surgeon's secretary gave you a preadmission form and set the date for your operation.
2/ Consultation with your anaesthetist
As your surgeon has mentioned, you will be given an anaesthetic. As soon as the date for surgery has been set, you must make an appointment with the anaesthetist prior to the procedure. The consultation must take place at least 48 hours before the scheduled procedure date.
Make sure you bring to the consultation the following:
Recent prescriptions for medicines you are currently taking
Results of tests prescribed by the surgeon.
Pre-operative anaesthetic questionnaire (link)
If you usually take medication in the morning, let the anaesthetist know during your consultation.
If you have any doubts or concerns, feel free to ask the anaesthetist as many questions as you wish. Take the time to read carefully all the documents given to you during the consultation. They contain important recommendations to which you must comply.
You must complete your pre-admission to the Victor Hugo Clinic at least 48 hours before your hospitalisation date. This step is usually done right after the consultation with your anaesthetist. It's a key stage which determines the conditions of your stay and facilitates your admission formalities.
Pre-admission allows you to:
Record your administrative data (identity, contact details, etc.)
Check that your documents are up to date (social security certificate, mutual health insurance card, proof of address dated within the last three months, family record book, identity card, etc.) and, if necessary, apply to have some or all of the costs covered by your health insurance.
Validate your choice of inpatient services (private room and personalised services)
Find out about the rates related to your hospitalisation.
Declaring a trusted person, a contact person, and the person who will accompany you home.
Prescriptions for your personal treatment.
Obtaining the necessary documents (operation consent form, outpatient consent form, informed consent form, anaesthesia consent form, quotation for surgical fees)
Special cases
For minors: Article 372-2 of the French Civil Code stipulates that any medical procedure on a minor requires the prior consent of all joint legal representatives. (See page 8 – Practical guide: Your child is having surgery)
For protected adults (trusteeship or guardianship): the surgery consent form MUST be signed by the legal representative, who must provide official proof of their capacity as guardian. Protected adults must be accompanied during their hospitalisation.
Dependent persons must be accompanied during their hospitalisation.
You will shortly be hospitalised for one or more nights at the Victor Hugo Clinic. Remember to bring your personal belongings with you and your medical file containing all the necessary information for your hospitalisation.
On the day of your hospitalisation, please report to the reception area of the Victor Hugo Clinic to register your admission. A nurse will provide you with all the necessary information for your upcoming procedure : What will happen during the day, the various appointments with specialists, and the time of your procedure.
As part of patient identity monitoring procedures, you will be asked to provide proof of identity and a photograph will be taken to be added to your computerised medical file.
In short, it consists of :
Verifying that all documents have been received.
Letting you know if we are able to meet your inpatient service needs in terms of a private room and the services offered.
An administrative officer will ask you for the following documents :
Your updated Carte Vitale (a Carte Vitale terminal is available in the reception area if required)
Your private health insurance card and cover for your treatment if necessary
Your official proof of identity (national identity card, passport, residency card)
Please provide a deposit (cheque) to cover your stay
Once these administrative procedures have been completed, you will be invited to go to the waiting room of the relevant department where the healthcare team will welcome you.
Special admission cases
Some procedures are not covered by social security. All fees must be paid upon admission based on a quotation established by your physician and the Victor Hugo Clinic, which you have personally agreed to.
Our administrative staff are at your disposal to help you complete the various formalities required for your admission.
A hygiene procedure must be followed. It will be explained to you by the healthcare team.
Remove all jewellery and piercings, hearing aids, dentures, contact lenses, etc.
Take a shower with an antiseptic soap.
Thoroughly clean the area where surgery will be performed (remove any hair if instructed).
Medicines
If you are undergoing treatment, you must hand over all your medicines and their corresponding prescriptions to the duty nurse as soon as you arrive.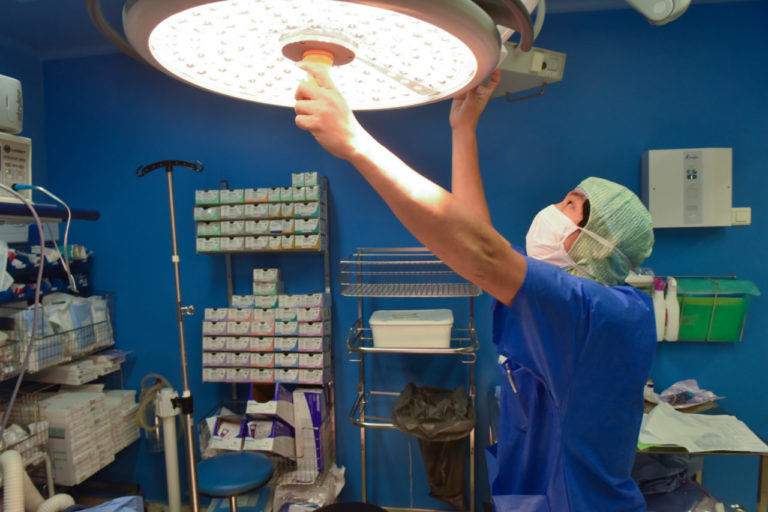 A hospital porter will come to your room and take you to the operating theatre.
A nurse and the anaesthetist will install the necessary equipment for your procedure.
To prevent any risk of infection, all equipment is disinfected.
Following your surgery, you will be taken to the recovery room where you will be continuously monitored. Our medical team will perform a careful check-up and administer pain relief medication as necessary.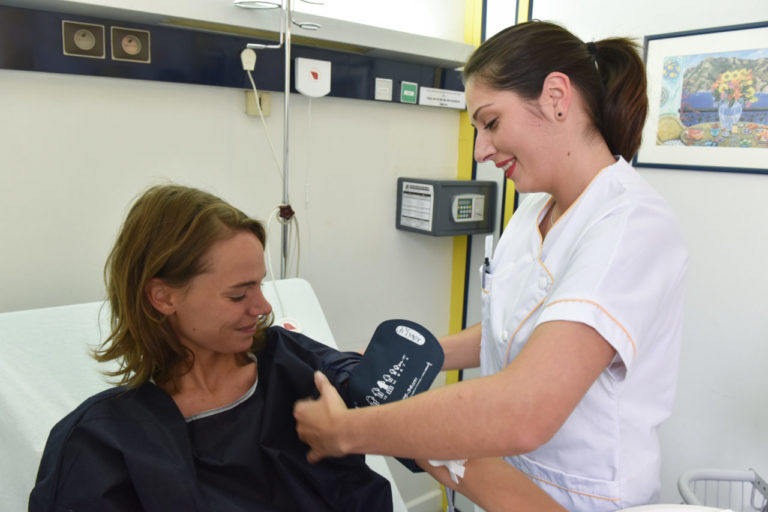 As soon as your state of health permits, a porter will escort you back to your room.
Your referring physician and a nurse will visit you to discuss your health and the next steps to be taken.